Organic seeds to help you grow
Garden with nature - Grow delicious food - Live by your values
We only sell varieties that we know you will love (because we love them!). A core part of our mission is to increase the availability and variety of organic seeds for UK gardeners and growers. 
Here is what our customers say about our organic seeds
Organic seeds to help you grow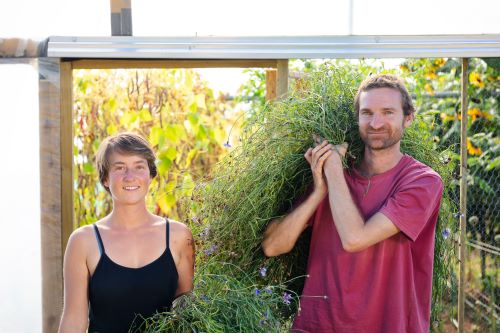 None of our seed is hybrid or GMO, so you can save your own seed from them too. Indeed, part of our mission is to re-skill gardeners and growers in how to save their own seed. We think that this is such an important skill and that all gardeners and growers should have some knowledge of seed-saving.
On our resources page you can find useful information to do with seed-saving, such as how-to guides and videos, links to other organisations working with seed (e.g. Gaia Foundation and Organic Seed Alliance , and also books and publications. We will be constantly developing this area of the site keep an eye of for more content coming soon.
Our plastic free pledge – we are committed to creating a sustainable food system, and part of that commitment is to avoid single-use plastics. All of our packaging is plastic-free and home-compostable so you can relax in the knowledge that you are not contributing to unnecessary plastic pollution
Organic seeds to help you grow