*** IMPORTANT MESSAGE PLEASE READ ***
There is a very high demand for organic seeds at the moment so we are doing our best to keep up with orders and packeting up more seeds. As such we are only accepting a certain amount of orders per day. Our shop will be open from 9am and we will close it once we have reached our capacity (maybe as early as 10am), we have also had to put limits on the amount of any one variety per order (3) and of total order amount (£50), to try to be as fair as possible to all our customers.
Thanks for your patience – we hope you and your loved ones are fit and healthy during this challenging time.
P.S. we apologise in advance if you happen to be in the middle of placing an order when we shut down the shop, and understand how frustrating this would be, but it will inevitably happen to some
We only sell varieties that we know you will love (because we love them!). A core part of our mission is to increase the availability and variety of organic seeds for UK gardeners and growers. 
Here is what our customers say about our organic seeds
You sold me some excellent seeds - top germination, and a lovely colour to the Boltardy leaves
This is my second order, as a novice to growing veggies. I love your products and am thrilled with the seedlings so far. A credit to you!
I wanted to mention how impressed we are with your seeds, they've been doing great for us, and we are really loving that Dazzling Blue kale! It's a real eye catcher.
Flashy Butter Oaks [lettuce] have been excellent - I've cropped and cropped them for my salad business since early April - still growing strong and not bitter.
Our best crop of Broad Beans ever. Huge seeds made fantastically strong plants with delicious tender beans
Your tomato seed 'Ruthje' is the best I've ever grown - the tastiest and the healthiest. I think it will be the only one I shall grow from now on. 10/10.
I've loved your seeds and will be buying again this winter
You guys rock! Easy to use, informative website, how-to guides, top notch seeds and the best customer service (speedy reply to our many questions!)
Love your seeds and your website is great always lots of helpful information
I love everything about Vital Seeds: I love what your company does and what it stands for, I love your information videos, I love the great service and I love the delicious vegetables that your seeds turn into. Keep it up!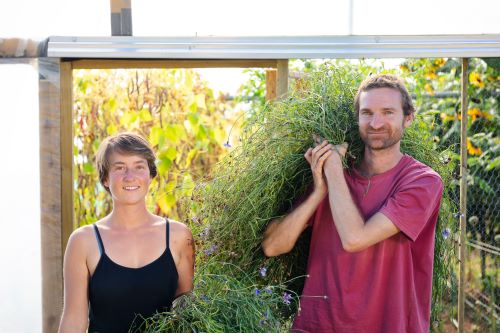 None of our seed is hybrid or GMO, so you can save your own seed from them too. Indeed, part of our mission is to re-skill gardeners and growers in how to save their own seed. We think that this is such an important skill and that all gardeners and growers should have some knowledge of seed-saving.
On our resources page you can find useful information to do with seed-saving, such as how-to guides and videos, links to other organisations working with seed (e.g. Gaia Foundation and Organic Seed Alliance , and also books and publications. We will be constantly developing this area of the site keep an eye of for more content coming soon.
Our plastic free pledge – we are committed to creating a sustainable food system, and part of that commitment is to avoid single-use plastics. All of our packaging is plastic-free and home-compostable so you can relax in the knowledge that you are not contributing to unnecessary plastic pollution
March is a big seed-sowing month depending on the weather. The soil should start to warm up a little bit, but don't jump ahead of yourself. It's always good to watch what is going on outside. If the weeds in your beds are sprouting, it might be a good time to start sowing vegetables out there as well.
Outdoors: Root crops including beetroot (early varieties), carrots, turnips and leafy vegetables like chard, spinach etc. can be sown outside depending on the weather and according to more specific growing suggestions of individual varieties. It's also a good time to sow radishes, spring onions, peas, broad beans and more.
Under cover: Beetroot, Brussels sprouts, kohlrabi, cauliflower, summer cabbages, onions, lettuce, celery and celeriac. Tomatoes, chillies, peppers and aubergines can still be sown until mid March for undercover cropping.